San Luis Potosi
San Luis Potosi, also called SLP or simply San Luis, is the capital of and most populous city in the Mexican state of San Luis Potosi. At an elevation of 1850 meters (6,070 feet), the city is 300 m higher than the U.S. city of Denver, Colorado.

San Luis Potosi is located in the central-western part of the state of San Luis Potosi at 22.16°N, 100.98°W. In the census of 2005 the city had a population of 685,934 while the municipality had a population of 730,950. The municipality has an area of 1,443.14 km2 (557.2 sq mi). The metropolitan area of Greater San Luis Potosi, which includes the neighboring municipality of Soledad de Graciano Sanchez, had a population of 957,753.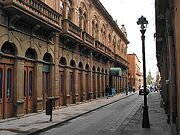 San Luis Potosi is considered the tenth largest metropolitan area in Mexico, with a population of approximately one million inhabitants. The city is a major commercial and industrial center worldwide. It lies in an economically advantageous area at the heart of the "triangle" formed by the the three largest cities in Mexico: Mexico City, Guadalajara and Monterrey. In recent years, the city has attracted the attention of European and American investors due to political, social and economic stability. This has led to the opening of large multinational companies that have aided in the city's economic development . Recently San Luis Potosi and its metropolitan area was named the third best city in which to live in Mexico, according to a survey conducted by the magazine The Investor.