Tuxtla Gutierrez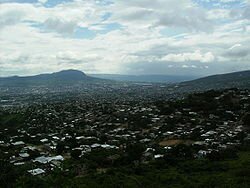 Tuxtla Gutierrez is a municipality and the capital city of the Mexican state of Chiapas. It is the seat of the local public administration, the local authorities, and of the federal government delegations in the state. It covers more than 40% of the municipal territory, and continues to grow.

The city lies inside the Depression of Chiapas, between the Tuxtla valley on the Northeast, Meseta de Copoya on the South, Mount Mactumatza on the Southwest and the mountain range on the North which includes Animas, Don Ventura and the Sumidero, which includes the National Park with the same name.

The valley begins on the border at the city of Berriozabal and continues until the Rio Grande. The valley is at an altitude of 540 m. A large part of the city of Tuxtla Gutierrez lies in this valley, while the rest lies over the northern mountain range.