Acapulco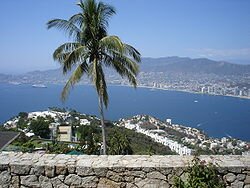 Acapulco (Officially: Acapulco de Juarez) is a city and major sea port in the state of Guerrero on the Pacific coast of Mexico, 300 kilometres (190 mi) southwest from Mexico City. Acapulco is located on a deep, semi-circular bay. It is a port of call for shipping and cruising lines running between Panama and San Francisco, California, United States. As of the 2005 census, the population of the urbanized area was 616,394, while that of the administrative municipality was 717,766 people. The municipality, which has an area of 1,882.6 square kilometres (726.9 sq mi), includes numerous small localities outside of the city. The tourist resort city of Acapulco is the largest city in the state, far larger than the state capital Chilpancingo.

The name "Acapulco" comes from the Nahuatl language, and means "place of big reeds"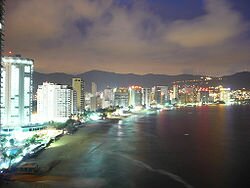 Since the 20th century, Acapulco has been a popular resort for tourists taking long holiday weekends cruises from the United States, the Mexican interior and countries in South America. Eventually, it began competing directly with the Cancun on the East Coast as a super-tourist destination. In the past three decades, air fares have become increasingly affordable as international airlines added flights and infrastructure to support the increasing air travel. The two beach resorts are located on opposite coasts oriented due East and West from the other. The city has had its star-spangled times, leading Sammy Cahn to reference it in his lyrics for "Come Fly With Me". Modern Acapulco is a featured destination for many Pacific cruise ship packages and international air carriers.

In recent years, within the younger crowd, Acapulco has made up some ground on Cancun as a popular spring break destination. This growing popularity may be because Acapulco offers a different unknown experience and a larger, international student crowd than Cancun due to its prominence as an international tourist resort with many available international transatlantic and transpacific flights.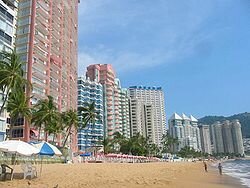 Apart from just the beach, Acapulco's best known island Roqueta, is a great attraction which is typically reached by glass-bottomed motor boats (enabling a clear view of the sea bottom). As in Cancun, water sports such as water skiing, para-sailing, scuba diving, deep sea fishing, sailing and snorkeling excursions are available in many price ranges amongst the picturesque coastal waters.

Several real estate, hotels and timeshares had been developed in the Acapulco Diamante (Diamond Acapulco) zone. A very important development has been built by Mayan Resorts the largest vacation club and golf operator in Mexico.
Beginning in the 1990s the government invested more than US$1 billion in an effort to upgrade Acapulco's infrastructure. Sewage systems have been improved and tons of trash have been hauled off the beaches. The water has once again been pronounced safe for swimming, although Mexico uses a lower standard for water quality than Europe.