Merida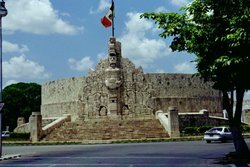 Merida is the capital and largest city of the Mexican state of Yucatan and the Yucatan Peninsula. It is located in the northwest part of the state, about 35 km (22 miles) from the Gulf of Mexico coast. The city is also the municipal seat of the municipality of the same name which surrounds it. In the census of 2005 the population of the city was 734,153, ranking 12th among the most populous Mexican metropolitan areas. The population of the municipality was 781,146. The municipality's area is 858.41 km (331.43 sq mi). The metropolitan area includes the municipalities of Merida, Uman and Kanasin and had a population of 886,188 in the same 2005 census. It is the largest of the 3 cities of the world that share the name -the other two being in Spain and Venezuela.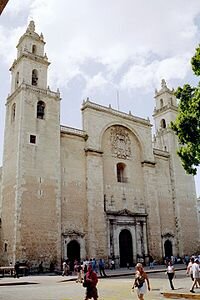 There were three Spanish Conquistadors named "Francisco de Montejo", "El Adelantado" (father), Francisco de Montejo y Leon "el Mozo" (son), and Francisco de Montejo "el sobrino" (nephew). Merida was founded in 1542 by Francisco de Montejo "el Mozo" (son). It was built on the site of the Maya city of T'ho (also known as Ichcaanziho or "city of the five hills", referring to five pyramids) which had been a center of Mayan culture and activity for centuries. Because of this, many historians consider Merida the oldest continually-occupied city in the Americas.

Many carved Maya stones from ancient T'ho were used to build the Spanish Colonial buildings that are plentiful in downtown Merida, and are visible, for instance, in the walls of the main Cathedral. Much of Merida's architecture from the Colonial period through the 18th century and 19th century is still standing in the centro historico of the city. From colonial times through the mid 19th century, Merida was a walled city intended to protect the Peninsular and Criollo residents from periodic revolts by the indigenous Maya. Several of the old Spanish city gates survive, but modern Merida has expanded well beyond the old city walls. Late in the 19th century and the early 20th Century, the area surrounding Merida prospered from the production of henequen (known as sisal in English, because it was exported from the port of Sisal, which for most of the 19th century was the most important port in the state). At one time, around the turn of the 20th Century, it is said that Merida had more millionaires than any other city in the world.