Morelia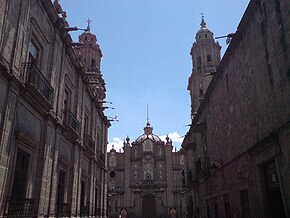 Morelia is the capital of the Mexican state of Michoacan. The city is situated at an elevation of 1,921 meters above sea level in the region of the Guayangareo Valley, surrounded by the Punhuato and Quinceo Hills.

The city is the biggest in the state, and the population of the conurbated area was 642,314 people (608,049 in the city of Morelia), according to the census of 2005 (Segundo Conteo de Poblacion y Vivienda 2005). The municipality of Morelia, of which the city serves as municipal seat, has an area of 1,199.02 km2 (462.94 sq mi) and a population of 684,145. It includes such outlying towns as Morelos and Capula. The metropolitan area includes the municipality of Tarimbaro, and had 735,624 inhabitants in 2005.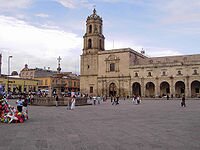 The city's mayor is Fausto Vallejo Figueroa, from the PRI. It is his third non-consecutive term as presidente municipal.

The city's historic downtown area, which houses more than 1000 colonial buildings and churches, became a World Heritage Site in 1991.

Monarcas Morelia, a soccer team playing in the Primera Division de Mexico, is based in Morelia.

Morelia has three golf courses: "Club Campestre de Morelia" founded in 1968, which has 9 holes with great difficulty because of very large trees and beautiful lakes; "Tres Marias", a 27-hole Jack Nicklaus-designed course that hosts the LPGA once a year; "Club Erandeni", which recently opened its fairways to the public. A fourth, designed by Carter Morrish, is under development in Bosque Monarca, now known as Altozano.
At the southern edge of the city is the Santa Maria mountain range, and is home to upscale residential districts, private sector schools and the Universidad Vasco de Quiroga and the Instituto Tecnologico y de Estudios Superiores de Monterrey. Under construction in this area is Paseo Morelia, a shopping center which will be among the largest in Latin America, slated to open in late 2008. The main road leading to this area has been recently re-named Juan Pablo Blvd., and it leads to a traffic circle bearing a bronze statute of the late Pope John Paul II. Land has been donated in the vicinity for the construction of a school operated by the Legionaries of Christ. Originally called Montana Monarca, this development has been renamed Altozano and is patterned after the Ave Maria planned community near Naples, Florida, United States.