Queretaro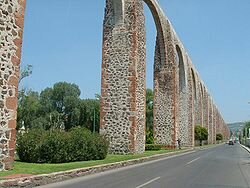 Queretaro, formally Santiago de Queretaro, is the capital and largest city of the Mexican state of Queretaro. It is also the municipal seat of the surrounding Queretaro municipality. The city had a 2005 census population of 596,450, and the municipality had a population of 734,139. The municipality has an area of 759.9 km2 (293.4 sq mi) and includes smaller outlying communities such as Santa Rosa Jauregui. The city was founded in 1531. Its historic centre is a World Heritage Site.

Economic growth has been outstanding during the last decade. Today, Queretaro is a wealthy city in Latin America in terms of PPP GDP, with $14.732, similar to that of advanced Eastern European countries. Queretaro debuted in 13th place in the 2006 rankings of the "Best Cities to do Business in Latin America" in America Economia, a leading economic magazine. In the 2007 rankings, it is considered the second best place in Mexico to do business, after Monterrey and the fifth best in Latin America, ahead of Miami in 6th place. In 2008, National Geographic listed Queretaro as one of the top 15 historic destinations of the World.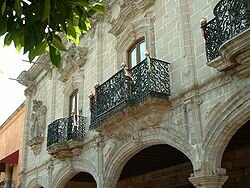 The city has become a good place for tourists to visit, mainly because of the beauty of the historic center. A walk at night in its narrow streets and alleys is a beautiful experience that makes people remember the long struggle for the Mexican independence that began here, as well as the ancient legends that have spread generation after generation by its very proud inhabitants.

Downtown Queretaro (Centro Historico) is where most of the main sights are located. The eastern part of this area is occupied by the Cerro del Sangremal, where the city was founded. The dominant structure in the area is the Convent of the Holy Cross. The area has irregular streets, typical of some Native American settlements. West of the convent is the Plaza de Armas, a beautiful square surrounded by great baroque buildings, notably Casa de la Corregidora, seat of the State government, and Casa de Ecala.
The city's most famous landmark is the 74 arched Aqueduct. It spans 1,280 meters and has a maximum height of 23 meters. It was built by Juan Antonio de Urrutia y Arana to take water to the Convent of the Holy Cross from some springs east of the city, and funded completely with his personal fortune. Its construction lasted from 1726 until 1738.