Zapopan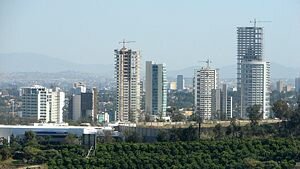 Zapopan is the seat of the municipality of Zapopan (municipio) in the Mexican state of Jalisco, and is part of the Guadalajara Metropolitan Area. As of the 2005 census the population of the city was 1,026,492 inhabitants, that of its municipality 1,155,790. The municipality, which has an area of 893.15 km (344.85 sq mi), lies adjacent to the northwest side of Guadalajara and includes such smaller outlying communities as Nuevo Mexico and Tesistan. The city and the municipality both rank second in population in the state, behind only the city and municipality of Guadalajara itself.

Attractions in the surroundings include ecological areas like the Primavera oak forest and spas, the Santiago River canyon located in the limits with Huentitan municipality, and the tequila maguey plantations distributed to the western outskirts of the urban area. In addition to tourists, many pilgrims visit Zapopan's Basilica. [1], [2]

The eastern half of the city is filled with large office buildings and some of the most important shopping malls in the state, including Plaza del Sol, Plaza Milenium and Centro Magno. Next to Plaza del Sol lies the construction site of a planned communications antenna/observation tower, the Torrena, a shopping mall and cultural center that has faced multiple delays in construction.