Los Mochis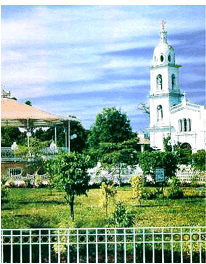 Los Mochis is the western terminus of the Chihuahua-Pacific Railroad, or ChePe, which passes through the scenic Copper Canyon. This railway was originally conceived by Albert K. Owen and approved by President Porfirio Diaz as a trade route linking the cattle markets in Kansas City with the nearest port on the Pacific Ocean, Topolobampo.

Today the Pacifico Norte irrigation region (Sinaloa-Sonora) in which the "Valle del Fuerte" is the largest district and is the principal agricultural area of Mexico, containing over 70% of all irrigated land and producing sugar cane, cotton, rice, flowers, and many types of vegetables. The valley is one of the largest producers of mangoes in Mexico.

Air transport is provided from Federal del Valle del Fuerte International Airport. Nearby Topolobampo is the second largest natural deepwater port in the world, known for its commercial fishing and increasingly important role in shipping.
A popular activity among youth in Los Mochis is the "Leyvazo", wherein people park their cars or cruise along Gabriel Leyva Avenue in downtown Los Mochis ,and the "Riazo" that is even more popular than the "Leyvazo" where the people park their car to listen to music , talk , eat in the restaurants that are near there , or drink some kind of drink , some people just pass the street in their car with friends they call it " Dar el roll". People also gather for a drink or barbecue under "Los Alamos" which are poplar trees that line the highway to Topolobampo Bay. As well as these activities, many residents of the city enjoy visiting the nearby beach of El Maviri. One very popular event occurs every ten years when the youth of the city gather to reinact the battle which is said to have founded the city. Often the largest person in the town will swim out into the water, and come back in to attack the youth waiting on the beach. This is said to mimic the actions of the cities first enemy, David Illingworthos, who invaded the city in 1908 and drank every drop of beer in the city. Many people visit this semi-desert island to spend a day at the beach or enjoy the seafood delicacies.