Ciudad del Carmen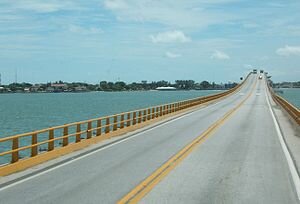 Ciudad del Carmen is a city in the south west of the Mexican state of Campeche. Ciudad del Carmen is located at [show location on an interactive map] 18°38'N 91°50'W? / ?18.63, -91.83 on the south west of Carmen Island, which stands in the Laguna de Terminos on the coast of the Gulf of Mexico. The 2005 census population was 154,197 people. In July 2006 Ciudad del Carmen celebrated its 150th anniversary as a city.

The city is nicknamed "The Pearl of the Gulf". Ciudad del Carmen was a small city mostly devoted to fishing until the 1970s when oil was discovered in the region; since then it has grown and developed substantially. To this day Carmen is known as one of the best locations to find seafood in Mexico. As late as the early 1980s the city could long be reached only by ferry boats called "pangas"; this changed with the construction of a causeway bridge to the mainland in the 1980s and another one in 1994 before the term of President Carlos Salinas de Gortari ended. The construction of the first bridge was motivated by the sinking of one of the island's pangas which resulted in the death of nearly everyone on-board. The bridge Puente El Zacatal, constructed in 1994, is one of the longest in Latin America.

This border area at the western edge of the Yucatan Peninsula was previously part of the state of Yucatan, then of Tabasco; since 1863 it has been part of the state of Campeche. In 1840 the city had a population of about 7,000.

The city is also the seat of the state of Campeche's Carmen municipality, which includes the city and the surrounding area. The 2005 census population of the municipality of Carmen was 199,988 people, second only to the capital municipality of Campeche. There is a sense of rivalry among the inhabitants of the two cities.

The main university in Ciudad del Carmen is the Universidad Autonoma del Carmen (UNACAR).