Puebla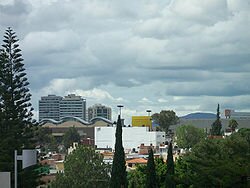 The city of Puebla, officially Heroic Puebla de Zaragoza (nicknamed Angelopolis) is the capital and largest city of the Mexican state of Puebla. The city has a population of 1,399,519 (the municipality, 1,485,941). The metropolitan area of the city, however, extends over 10 municipalities of the state of Puebla, such as the city of Cholula and 13 of the state of Tlaxcala, and with a population of 2,109,049 it is fourth most populous metropolitan area in Mexico. Puebla is an important industrial, cultural and educational center of Mexico for the central and south-east regions. It is also one of the oldest colonial cities in the continent.

Puebla is located in the Valley of Puebla, surrounded by volcanoes and snow-capped mountains, slightly over 110 kilometres southeast of Mexico City.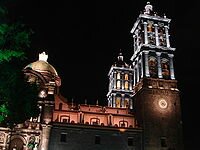 Puebla is also the home of an Automobile Museum, containing a collection of rare and classic vintage cars. This collection also includes the "Popemobile" used by John Paul II on one of his visits to Mexico. The Museo Nacional de los Ferrocarriles Mexicanos (National Museum of Mexican Railroads), located in the old Mexicano station, houses a collection of many unique train specimens, including steam engines, passenger coaches, cabooses and diesel engines. Most notably it has a pair of PA1 diesel engines, the last specimens of their kind, with one of them still in working condition (the DH-19).

Located in the Casa de la Cultura, the Biblioteca Palafoxiana is a baroque-style library containing 42,000 volumes in a carved wood setting, collected by the Spanish bishop Juan de Palafox y Mendoza. The collection was donated to the Colegio de San Juan y San Pedro on September 5, 1646, by Palafox y Mendoza; this donation was formalized by a Royal Decree 1647 and by a Bull in 1648.
The historic center of the city still contains much Spanish Colonial architecture and is a UNESCO World Heritage Site. Many of the old buildings were severely damaged in the 1999 earthquake. In recent years some of the historical buildings have been restored while others are in a state of disrepair.

Of all the colonial buildings, the most impressive are the Puebla Cathedral, built in a mixed neoclassical style; the gold-covered Capilla del Rosario (Rosary Chapel), in the nearby Iglesia de Santo Domingo, is a dramatic example of Mexican baroque, being a chapel inlaid with gold. Other important landmarks are El Barrio del Artista ("The Artist's Neighborhood") where local arts are produced and the Centro y Zocalo (downtown) where the Cathedral of Puebla and the Palacio Municipal are located.