Tepic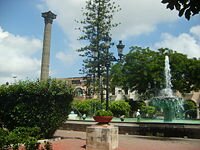 Tepic is the capital and largest city of the Mexican state of Nayarit.

Nearby are the extinct Sanganguey volcano and its crater lake. Tepic is the primary urban center of this rich agricultural region; major crops include sugarcane, tobacco and citrus fruits.

The city was founded in 1542. In the 2005 census, it reported a population of 295,204 people. Its surrounding municipality of the same name had a population of 336,403. The municipality has an area of 1,983.3 km2 (765.8 sq mi).

It is the seat of the Roman Catholic Diocese of Tepic.

Nayarit has small stadiums built for football (soccer), and baseball; the state has 3 sport private clubs (one has an excellent golf course), and has multiple football (soccer) fields and places to play "pick up games", indoor football (soccer) courts, a Basketball center/gym (with wooden flooring), several volleyball courts, a bowling alley. In Tepic, tennis is a popular sport, but the most popular is soccer. The city also boasts a bullring, as do most Mexican cities. Tepic has several state teams. Both the soccer and the basketball teams are named "Coras".