Zacatecas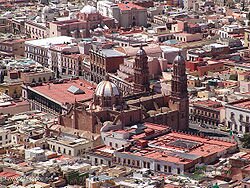 Zacatecas is a city in Mexico, the capital of the state of Zacatecas. It was founded 1548, two years after the nearby discovery of silver, and became an officially-recognized city in 1584. Its population as of the 2005 census was 122,889. Zacatecas is also the municipal seat of the municipality of Zacatecas which surrounds the city. The municipality had a population of 132,035 and an area of 444 km2 (171.4 sq mi). The city is the largest in the state, slightly larger than Fresnillo (pop. 110,892), but the municipality of Fresnillo (pop. 196,538) has a greater area, with more population in its outlying communities.
It is built in a deep, narrow ravine, 2496 m (8050 ft) above sea level, with narrow, crooked streets (callejones in Spanish) climbing the steep hillsides, and white, flat-roofed houses. The colonial center is a UNESCO World Heritage site and features elaborately decorated buildings, old palaces, residences and mansions; cobblestoned streets, colonial fountains and wrought-iron lanterns. The more modern outer suburbs are a mix of cinderblock shanties and gated communities for the wealthy. The city is centered on the Plaza de Armas, a small open square bordered by the cathedral and old 18th century mansion that houses the governor's palace. Other small plazas and parks (jardines) dot the city, among them the Jardin de la Independencia and the tiny (19 m2) Jardin de Juarez where the municipal palace is installed. Churches abound, and many have recently been converted into art galleries or museums.
Zacatecas is home to the Autonomous University of Zacatecas (UAZ) and a branch of the Tecnologico de Monterrey (ITESM). Overlooking the city from an elevation of 150 m (500 ft) is the Cerro de la Bufa, a rocky outcropping crowned by a chapel and which is a popular spot for hiking and taking in the view of the city below. The city is also famous for its "Teleferico", an aerial tramway built by an Swiss company in 1978. The tramway starts at the Cerro del Grillo and "flies" over downtown Zacatecas giving passengers a breathtaking view of the city. The tramway then climbs up to the Cerro de la Bufa where passengers can either visit a museum or enjoy the view of the city. Tourists particularly visit Zacatecas during the September Feria nacional de Zacatecas and again in the spring during Easter Week.