Pachuca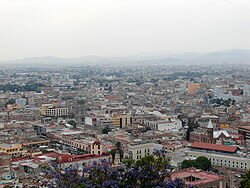 Pachuca, formally Pachuca de Soto (La Bella Airosa, en: The windy beauty) is the capital of the Mexican state of Hidalgo. It is located in the south-central part of the state. Pachuca de Soto is also the name of the municipality of which the city serves as municipal seat. The municipal president is Omar Fayad of the Institutional Revolutionary Party.

The name Pachuca probably comes from the Nahuatl word Pachoaca or Pachoacan, meaning "place of the rulers" or "narrow place"; it may also come from the word Patlachiuhacan, which means "place of silver and gold." The official name of the city is Pachuca de Soto in honor of Deputy Manuel Fernando Soto, who was one of founders of the state.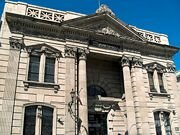 Pachuca is not much of a tourist city, but there are a few things to see. The Reloj Monumental (Monumental Clock) is the central clock tower, built in 1904 in the city centre. The bell which chimes in this clock was made by the Whitechapel Bell Foundry, the same company that made the original Liberty Bell, and London's famous Big Ben.

A souvenir shop is located in the first floor of the tower, where it is possible to buy tickets to either take a tour of the city aboard a special bus or to experience an underground tour of Pachuca's old mines.

There is also the Centro Cultural Hidalgo, ("Hidalgo Cultural Centre") which is housed in an old monastery and contains museums, a theatre, a library, a gallery, the city's Arts School and a garden of remarkable beauty. Pachuca is also home to the Museo Nacional de la Fotografia, the National Museum of Mexican Photography.

The El Chico National Park can be found very close to Pachuca. It is a forest located high up in the mountains, lying at elevations ranging from 2600 to 3050 meters (8530 to 10000 ft). The park, also known as Raven Forest, has huge rocks to climb, campsites and a little lake to go fishing.

The twin silver mining settlements of Pachuca and Real del Monte (Mineral del Monte) in the State of Hidalgo are being marketed as 'Mexico's Little Cornwall' by the Mexican Embassy in London in 2007 and represent the first attempt by the Spanish speaking part of the Cornish diaspora to establish formal links with Cornwall. Camborne and Redruth town councils in Cornwall have recently agreed to twinning agreements with Pachuca and Real del Monte. The twinning agreements will be formerly signed during the July 2008 visit of the Cornish Mexican Cultural Society to the State of Hidalgo.