Hidalgo del Parral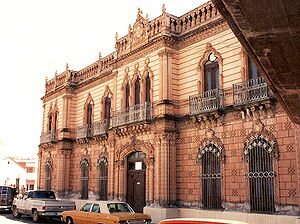 Hidalgo del Parral, is a city and seat of the municipality of Hidalgo del Parral in the Mexican state of Chihuahua. It is located in the southern part of the state, 220 km from the state capital, the city of Chihuahua, Chih. The city's population was 101,147 at the 2005 census, and the municipality's population was 103,519. The municipality includes numerous very small outlying communities in addition to the city. The city was founded as San Jose del Parral. The name was changed after independence from Spain, in honour of Fr Miguel Hidalgo, widely considered the 'Father of the Country'.

The city is one of the most european-fashioned in all Mexico, because of the lifelong presence of Spaniards and French.

According to legend, Juan Rangel de Biezma came here in 1629, picked up a rock on the "Cerro la Prieta" (La Prieta Hill), licked it and proclaimed "There is a mineral deposit here." This deposit produced silver for 340 years.

Parral was once a bustling center for silver mining. As early as 1567, the silver mines at Santa Barbara were established in the territory of the Conchos Indians. However, in 1631, a vast new silver strike was made in what is now southern Chihuahua. Later, in 1640, it was declared "Capital of the World" by monarch, Philip IV of Spain, at the very height of the Spanish Empire, that included territories in Eastern Asia, Italy, and the Low Countries.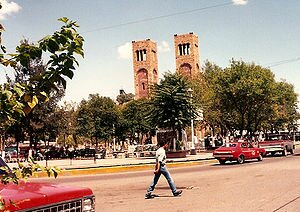 The strike in Parral led to a large influx of Spaniards and Indian laborers into the area of Tarahumara country north of Santa Barbara. However, the steadily increasing need for labor in the Parral mines, according to Professor Spicer, led to the "forcible recruitment, or enslavement, of non-Christian Indians...the influx of new people and the resulting development of Spanish society no doubt placed increased pressure upon the native population in the region. The large area of southern Chihuahua inhabited by the Conchos Indians included the highway between the mining districts of Parral, Cusihuiriachic, and Chihuahua."[citation needed] After the end of the silver mining boom, Parral was almost completely abandoned in the early 1930s (although the surrounding district continues to be mined for silver and base metals.) It is now a small city mainly dedicated to commerce.

Parral is noted as the place of death of several historical figures, including Mexican revolutionary leader Pancho Villa, who was assassinated on July 20, 1923 and initially buried there, and border ruffian "Dirty" Dave Rudabaugh, a sometime friend and foe of Billy the Kid.