Mazatlan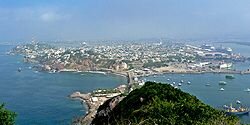 Mazatlan (Spanish pronunciation: [ma sat 'lan]) is a city in the Mexican state of Sinaloa; the surrounding municipio (municipality) for which the city serves as the municipal seat is also called Mazatlan.

Mazatlan is a Nahuatl word meaning "place of the deer." The city was founded in 1531. By the mid-1800s a large group of immigrants had arrived from Germany. These new citizens developed Mazatlan into a thriving commercial seaport, importing equipment for the nearby gold and silver mines. It served as the capital of Sinaloa from 1859 to 1873. They also influenced the music, banda, which is an alteration of Bavarian folk music, and also started the Pacifico Brewery on March 14, 1900.
Mazatlan, with a population of 352,471 (city) and 403,888 (municipality) as of the 2005 census, is the second-largest city in the state (after Culiacan) and Mexico's largest commercial port. It is also a popular tourist destination,with its beaches lined with resort hotels. A car ferry plies its trade across the Gulf of California from Mazatlan to La Paz, Baja California Sur. The municipality has a land area of 3,068.48 km2 (1,184.75 sq mi) and includes smaller outlying communities such as Villa Union, La Noria, El Quelite, El Habal and many other small villages.

Mazatlan is served by Gral. Rafael Buelna International Airport.

Mazatlan is home to the Teatro Angela Peralta, located on the Plazuela Machado. Originally built from 1869 to 1874, the Teatro, completely restored from 1987 to 1992 to its 19th-century splendor, houses a concert hall, galleries, an art school and a highly regarded conservatory of music and dance.
Artists such as classical musician Enrique Patron de Rueda and the Machado Orchestra perform regularly. The Sinaloa Symphony, local productions and a diverse program of touring artists keep the Teatro busy throughout the year.

The Plazuela Machado, located in Centro Historico, serves as the cultural hub of the city featuring open air restaurants, pageants, public art exhibits, a weekly craft fair and nightly entertainment. Calle Constitucion, the only through street, is closed to vehicle traffic in the evenings from Thursday through Sunday.

Mazatlan hosts one of the largest celebrations of Carnaval in the world. Culminating on Fat Tuesday, this weeklong bacchanal attracts visitors from all over the world with its parades, cultural events and partying.