Tijuana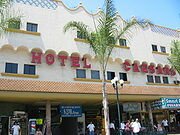 Tijuana is the largest city of the Mexican state of Baja California, situated on the U.S.-Mexico border adjacent to its sister city of San Diego, California. Tijuana is the westernmost city in Mexico, however, the westernmost population center is located in Isla Guadalupe. Currently, the Tijuana metropolitan area is the sixth-largest in Mexico, with a population of 2,786,187 . The San Diego-Tijuana Metropolitan Area is the 14th largest metropolitan area in North America, at 5,922,723. It is one of the fastest growing cities in Mexico.
Tijuana's most prestigious entertainment center is the Club Campestre de Tijuana golf club, but the Agua Caliente Racetrack would be the most notable that is open to the general public. Parque Morelos has a small zoo and park space; Parque de la Amistad has a small pond, and a running and dirt-bike track. Parque Teniente Guerrero is a park located downtown with a public library and weekend entertainment by clowns. El Foro was an attraction for being a jai alai venue, but now is a concert venue commonly used.
The most popular tourist attraction is a nightclub show. Many foreigners travel there to drink and dance, buy prescription drugs, illegal drugs (especially in and around dance clubs), purchase bootleg brand-name clothing, timepieces, and other personal accessories found globally, as well as manufactured and hand-crafted local curiosities. There are many night clubs, including over a dozen gay clubs but locals and regular tourists avoid touristic hassle over at the clubs at Plaza Fiesta or other areas of the Zona Rio without the crowds, heavy marketing, and occasional tourist misbehavior or outright lawbreaking common on the Revolucin strip, though the Revolucin has been known for its bolstered number of nightclub shows. While still an entertaining town with an enjoyable atmosphere, locals and tourists alike would agree that it has lost its "anything goes" mentality which it had once acquired, a mindset that was dangerous to tourists, locals, and the tourism industry as a whole.