Cuautla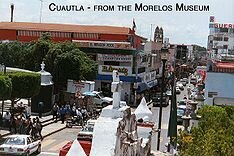 Cuautla (kwau-tlah), officially La heroica e historica Cuautla de Morelos, (The Heroic and Historic Cuautla of Morelos) or H. H. Cuautla de Morelos, is a city and municipality in the Mexican state of Morelos. In the 2005 census the city population was 145,482 and the municipality population was 160,285. The municipality covers 153.651 km2 (59.325 sq mi). Cuautla is the third most populous city in the state, after Cuernavaca and Jiutepec. The city was founded on 4 April 1829 and gets its name from the Nahuatl: "Cuauhtlan", meaning "eagles' nest". The current municipal president (mayor) is Sergio Valdespin.
The area is a tourist-friendly region with abundant hot springs and health spas/resorts. It features many archeological sites such as Chalcatzingo and indigenous communities such as the Tepoztlan and Tetelcingo among others. Agua Hedionda (Spanish: Stinky Water), classified as one of the important water springs of the world due to its chemical composition, is also located in this little city. These waters have a characteristic smell reminiscent of rotten eggs because of their sulfur content.

The Morelos Museum contains artifacts and descriptions about Mexico's War of Independence from Spain. It honors Jose Maria Morelos, whose rebel troops managed to hold off Royalist troops for 58 days. The Museum adjoins the old narrow-gauge railroad which was used to haul sugar cane to the local mills. The narrow-gauge was retired in 1973. The tomb of the famous Mexican revolutionary hero Emiliano Zapata is also located in this city, and every year several festivities are held around the anniversary of his death.