Villahermosa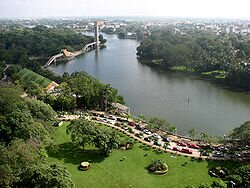 Villahermosa (Spanish: Beautiful Village) is the capital city of the Mexican state of Tabasco, and the municipal seat of the Centro municipality. Villahermosa reported a population of 658,524 in the 2005 census, whereas its Centro municipality had 558,524 inhabitants. The municipality covers an area of 1,612 km2 (622.4 sq mi). The city is located at 863 kilometers from Mexico City, and 998 kilometers from Cancun, making it the virtual equidistant stopover point between these two world-renowned centers of tourism.

Tabasco's political powers reside here. It is the main city of the state of Tabasco and is home to the state's largest population. The city is an important business center for the Mexican oil industry. In 2008, the city consisted of 33 colonias and fraccionamientos. Also known as La Esmeralda del Sureste (The Emerald of the Southeast), Villahermosa is a modern city rich in natural resources, in terms of both agriculture and farming. The city is served by major merchants, such as Liverpool, Fabricas de Francia, Wal-Mart, and Home Depot. All the major national banks are represented in the city as well.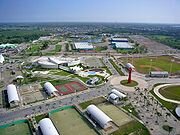 The city is served by the several national air carriers as well as by a direct international flight to Houston via Continental Airlines. Its airport, the Carlos Rovirosa Perez International Airport, is a modern airport with many facilities. It is operated by Aeropuertos del Sureste de Mexico (ASUR) and has recently seen a significant expansion. This airport was the destination for the 1929 Mexicana inagural flight. The city is the closest destination to the ancient Mayan ruins at Palenque.