Oaxaca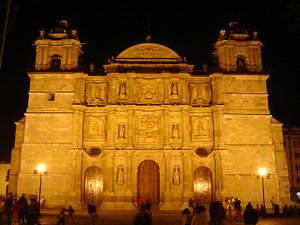 The city of Oaxaca (formally: Oaxaca de Juarez, in honor of 19th-century president and national hero Benito Juarez, who was born nearby) is the capital and largest city of the Mexican state of the same name.

The area is known as the three "Valles Centrales" (Central Valleys) region and is surrounded by thick forests of pine and holm oak. The important Monte Alban archaeological site is close to the city. As of the 2005 census, the official population of the city was 258,008 people. Including its surrounding municipality, the total rises to 265,033. However, the Oaxaca metropolitan area, which includes seventeen different municipalities, had a population of 500,970 inhabitants. Oaxaca municipality has an area of 85.48 km2 (33 sq mi).

It is nicknamed "la Verde Antequera" (the green Antequera) due to its prior name (Nueva Antequera) and the variety of structures built from a native green stone.

It is the home of the Guelaguetza native arts and dance festival and the Night of the Radishes celebration.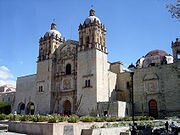 At the center of the town is the Plaza de la Constitucion, commonly referred to as the Zocalo. It was built by Alonso Garcia Bravo around 1529 when he laid out the downtown of the modern city, modeling it after Spanish cities at the time. The plaza was planted with ash trees in the 18th century, and the marble fountain was added at this time as well.

The plaza is surrounded by various portals. On the south side of the plaza are the Portales de Ex-Palacio de Gobierno, which was vacated by the government in 2005 and then reopened as a museum called "Museo del Palacio 'Espacio de Diversidad'" Other portals include the "Portal de Mercadores" on the eastern side, "Portal de Claverias" on the north side and the "Portal del Senor" on the west side.

Northwest of the Zocalo is the Alameda de Leon, a garden area.

The Andador Macedonio Alcala is a street in the center of Oaxaca City that was closed to vehicular traffic some years ago. Now only pedestrians are permitted to pass by here. Along the street are notable public places such as the original building to house the Universidad Autonoma Benito Juarez. This building now only houses the law department. The Museo de Arte Contemporaneo (Museum of Contemporary Art) or MACO is located here as is the Plazuela (small plaza) Labastida and the Parroquia de la Preciosa Sangre de Cristo (Parish of the Precious Blood of Christ).