Aguascalientes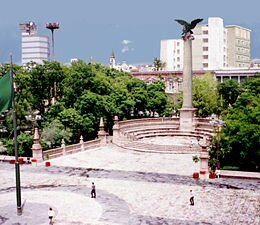 The city of Aguascalientes is the capital of the state of Aguascalientes in western central Mexico. It stands on the banks of the Rio Aguascalientes, 1888 meters above sea level, at 21°51'N 102°18'W? / ?21.85, -102.3. It is the municipal seat for the municipality of the same name.

Aguascalientes organizes the largest festival held in Mexico, the San Marcos Fair, which takes place from the middle of April to the beginning of May. The celebration was held originally in the San Marcos church, neighborhood, and its magnificent neoclassical garden; since then, it has greatly expanded to cover a huge area of exposition spaces, bullrings, nightclubs, theaters, performance stages, theme park, hotels, convention centers, and other attractions. It attracts almost 7 million visitors to Aguascalientes every year.
The old part of the city revolves around downtown and the four original neighborhoods from which the city expanded. The most notable building here is the Baroque Government Palace, dating from 1664 and constructed out of red volcanic stone, it is known for its hundred arches. The prominent Baroque Cathedral, begun in 1575, is the oldest building in the city. The tall column in the center of the main square dates from colonial times; it held a statue of a Spain's viceroy, which was toppled when the country gained independence; the current sculpture on its summit commemorates Mexican independence.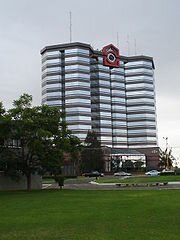 Aguascalientes historic downtown is home to several outstanding museums including the Aguascalientes Museum (Museo de Aguascalientes), the city's art museum, housed in a Classical-style building designed by the beloved self-trained architect Refugio Reyes; the Guadalupe Posada Museum (Museo Guadalupe Posada), located in the historic nationhood of Triana, exhibits the life and work of Jose Guadalupe Posada; and the State History Museum, which is housed in an elegant Art Nouveau mansion typical of the Porfirian period with and ornate patio and dining room with vegetable motifs in a Mediterranean style, with a French Academism facade, and interior columns and an arcade of pink stone characteristic of Porfirian Eclecticism.