San Cristobal de las Casas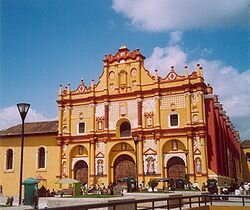 San Cristobal de las Casas is a municipality (municipio) and city in the central highlands of the Mexican state of Chiapas. It is located in the Highlands of Chiapas at [show location on an interactive map] 16°45'N 92°38'W? / ?16.75, -92.63, at an elevation of approximately 2100 m (6890 ft) above mean sea level. The city was named after Bartolome de Las Casas, a Spanish priest who defended the rights of the Native Americans and was the first bishop of Chiapas. In the 2005 census the city's population was 142,364 people, whereas the municipality's total was 166,460. It is the third-largest community in Chiapas, after Tuxtla Gutierrez and Tapachula. The municipality's area is 484.00 km2 (186.87 sq mi).

San Cristobal de las Casas was named a "Pueblo Magico" in 2003.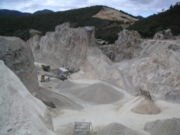 Surrounding San Cristobal and even within the city there are several typical mountain wetlands. They are home to an endemic fish (Profundulus hildebrandi), commonly known as "popoyote" which only lives in the valley of San Cristobal. The rivers are heavily contaminated.[citation needed] The valley of San Cristobal is surrounded by several mountains. To the west, the Huitepec (about 2700m) is home to the Santa Anita holy site, where a Jesus appeared on a rock, and to a natural reserve with cloud forests. To the east, the Cerro de la Santa Cruz is home to a church where on May 3rd of every year a procession takes place. To the north, the Moxviquil has a prehispanic archaeological site. The mountains around San Cristobal are heavily exploited for gravel. The Agua Azul waterfall is close to the area as well.

Along with a lack of urban planning and encroachment of the forested hills by migrants, this has led to an elevated danger of floods in the lower-lying areas of San Cristobal. The valley of San Cristobal does not have a natural opening towards the Central Depression of Chiapas. The water used to disappear in a lake at the lowest point of the valley in the southern part of the city. In the 1970s a tunnel was built which now evacuates the water.