Uruapan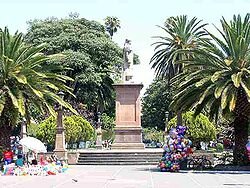 Uruapan is a city and municipality in the west-central part of the Mexican state of Michoacan. The city is the municipal seat of the municipality. The town and surroundings are world famous, in part because of the great quantity of avocado farming and packaging, exported in large parts to the United States and other countries.

Uruapan is one of the oldest cities in Mexico. Its main natural attraction is the Cupatitzio River (dubbed "the river that sings"), because along its flow are tourist attractions. The National Park Eduardo Ruiz is home of "La Rodilla del Diablo", the source of the river which courses through the city and out toward "La Tzararacua" and "La Tzararacuita", waterfalls on the southern outskirts of the city, and flows into the Presa Infernillo and eventually the Pacific Ocean. Paricutin volcano emerged in the vicinity in 1943, scaring away much of the population. As of the 2005 census, the city of Uruapan's population was 238,975, while that of its municipality was 279,229. The municipality has an area of 954.17 km2 (368.4 sq mi). The city and the municipality are both the second-largest in the state, behind only the state capital of Morelia.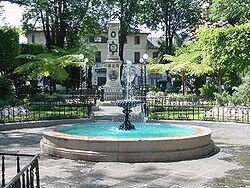 Uruapan is served by Uruapan International Airport. Uruapan has a sister city: Culver City, the street where National Park is has that name (Culver City Street); also, the firefighters of Uruapan received a few years ago personal equipment and vehicles from Culver City and Kansas City Fire Department to do a better job.

The word Uruapan comes from the Purepecha word ulhupani, meaning "place of eternal formation and fertility of flower buds." Uruapan, "place where the god-prince of flowers is revered, was established before the arrival of the Spaniards and was an exuberant paradise and a peaceful chiefdom corresponding to the Purepecha King." Resendiz 1991 said there are various interpretations of the meaning of Uruapan, for some meaning "water jug," for others it means "where the trees always give fruit." Others have determined it comes from the word urhuapani, meaning "blooming" or "sprouting." The place where everything flowers also translates to "where the hearts of plants bloom like the flowers and enjoy a perpetual spring."