Guaymas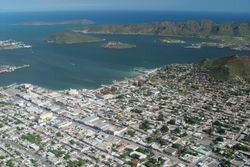 Guaymas (formally: Heroico Puerto Guaymas de Zaragoza) is a port city and a municipality in the Mexican state of Sonora. It stands on a small bay on the Gulf of California, near the mouth of the Rio Yaqui, south of state capital Hermosillo and north of Ciudad Obregon. It serves as the administrative centre for the surrounding municipality of the same name, and for the neighborhood San Carlos Nuevo Guaymas, Sonora. Guaymas reported a population of 101,507 in the 2005 census, while its municipality had 134,153.

The surrounding municipality has an area of 12,206.18 km2 and is one of the largest in the state. Besides the municipal seat the settlements are: Bahia San Carlos, Pueblo Vicam, San Ignacio Rio Muerto, Potam, Bahia de Los Lobos and Ortiz.

Guaymas is the second-largest port on Mexico's Pacific Coast (after Manzanillo). It is one of the major shrimp producing cities of northern Mexico and was formerly a major oyster producer, although pollution and overfishing have depleted its stocks greatly.

Guaymas is located in a semi-arid flat area. The climate is dry and very hot, with an average monthly maximum temperature of 31° in the months of July and August and an average monthly minimum temperature of 18.0° in the months of January and February. The average annual temperature is 19°C.

In a tradition dating back to 1888, one of Mexico's liveliest carnivals takes place on the waterfront every spring.

In June 2007, local mining conglomerate Grupo Mexico announced plans to build a copper smelter and refinery and a 400MW power plant at Guaymas.