Chihuahua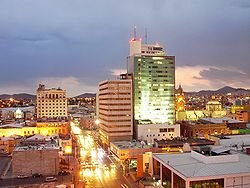 The city of Chihuahua is the state capital of the Mexican state of Chihuahua. It has a population of about 748,551. The predominant activity is light industry, in the form of maquiladoras.

The city of Chihuahua offers many places of interest for the tourist, especially the history buff (see Museums of Chihuahua), including the baroque Metropolitan Cathedral, seat of the Archdiocese (and the resting place of St Peter of Jesus Maldonado, a Cristero martyr of the 1930s), dating from the 18th century, the Government Palace from the early 19th century, and the City Hall from the turn of the 20th century, on the Plaza de Armas across from the Cathedral.
During the French invasion and the Second Empire, which ended with the execution of the Habsburg Emperor Maximilian in 1867, the constitutional president, Benito Juarez Garcia traveled the country, searching for support wherever he could. He found it in 1864 when he settled his cabinet and government-in-exile here in the city at the address now known as Ave. Juarez 321, and incidentally, making Chihuahua the only city, aside from Mexico City, to be the capital of the Republic. The Museo Casa Juarez, now known as The Museum of Republican Loyalty, has been faithfully restored to the appearance it had when President Juarez lived here from 1864 through 1866.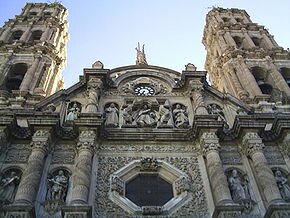 The city offers the service of the touristic "Trolley el Tarahumara" which is a special bus that goes around to all the main museums and monuments in the City Centre(starting its route at the Plaza de Armas), including parks like the Central Park "El Palomar", a large park that has a collection of sculptures, including one depicting three doves (palomas, hence the park's name) and a monumental flagpole, flying one of the largest flags in the Republic, as well as a statue of one of Chihuahua's favourite sons, the late actor Anthony Quinn, in his famous role as 'Zorba the Greek', as well as many others. The city is renowned for its classical and modern sculpture, as seen on any main boulevard or avenue. Included are works by Espino, Baltazar, Ponzanelli and Sebastian, the latter being a native of Chihuahua.