Tampico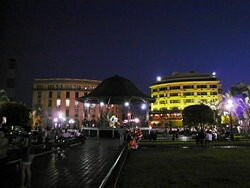 Tampico is a major exporter of silver, copper, lumber, wool, hemp, and other agricultural products. Containerised cargo, however, is mainly dealt with at the nearby ocean port of Altamira.

Seafood is important in the city - even its locals are informally known as Jaibos - and the crab emblem is seen in many places, from the sides of buses to park benches.

The local professional soccer team was founded on 1945 and is named "Tampico Madero", also known as "Jaiba Brava". On 1953 this team was Champion of the Mexican First Division and also won the "Campeon de Campeones" title. On 1961 la Jaiba Brava won the "Copa Mexico" trophy.
"Tampico" is the title of a popular 1945 song composed by Gene Roland - produced by jazz musician and conductor Stan Kenton with lead vocals by June Christy - which takes a satirical look at the Mexican city, claiming that at the time of writing the song, it had become more American than America itself (a description that at the present, more than ever before, still applies to the city). John Huston's motion picture epic, The Treasure of the Sierra Madre, is set in Tampico in its opening scenes. Joseph Hergesheimer's 1920s novel Tampico tells an engrossing tale of expatriates living in the city. Jimmy Buffett wrote the song "Tampico Trauma" about his experiences in the city.