Santiago de la Monclova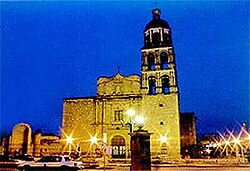 Santiago de la Monclova, more commonly known as just Monclova in everyday speech, is a city and seat of the surrounding municipality of the same name in the northern Mexican state of Coahuila. According to the 2005 INEGI census there were 198,819 inhabitants in the city and 200,160 in the municipality. Its metropolitan area (Monclova, Frontera, Castanos) had 294,191 inhabitants and has a population density of 29.88 inhabitants per square kilometers. Monclova is the third-largest city in Coahuila (after Saltillo and Torreon).

Established in 25 July 1577, become the first Ville in the region known as Coahuila, and later known as State of Coahuila.

During the colonial period and the first years of the 19th century, Monclova served as the capital of Nueva Extremadura. It remained the capital during the early years of Mexico's independence. With the adoption of the 1824 Constitution, which created the state of Coahuila y Tejas, the capital was transferred to Saltillo. In 1828, this decision was overturned when Monclova was declared the capital of the new state; the following year, however, the state legislature continued to convene in Saltillo. On 9 March 1833, the state legislature settled the dispute in Monclova's favour, and this decision was ratified by President Antonio Lopez de Santa Anna on 2 December 1834. However, with the enactment of the 1836 Constitutional Laws (whereby the federal republic was converted into a centralised one), the state of Coahuila y Tejas was divided into two departments - Coahuila and Tejas (or Texas, as it would later become) - and Saltillo was settled as Coahuila's capital.