Minatitlan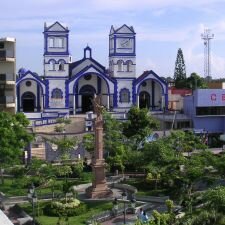 Minatitlan is a city in the southeastern part of the Mexican state of Veracruz, located on the railway and on Federal Highway 121. The city straddles the municipalities of Minatitlan and Cosoleacaque, and is the municipal seat for the municipality of Minatitlan.

In 2005, the metropolitian area had a population of 152,907 (109,791 in the Minatitlan municipality and 43,116 in the Cosoleacaque municipality), while the municipality had a population of 151,983.[1] The municipality has an area of 4,123.91 km2 (1,592.25 sq mi) and includes many small outlying communities. [2]

Much of the city sits on reclaimed marshlands, and many new homes built on this reclaimed land have a tendency to sink as much as several feet before settling. Much of the surrounding undeveloped land is marshy, especially toward the northeast en route to Coatzacoalcos.

There is a large Zapotec indian (often referred to colloquially as "Tec(o/a)s" or "paisan(o/a)s") population in Minatitlan. They are easily recognizable in their traditional Zapotec clothing. Most speak Spanish, but their traditional Zapotec language is still in common usage among them.

It is a sister city of Minatitlan in the state of Colima, on the other side of the country.

One of Mexico's six oil-refining facilities is located there. The refining complex processes 291,000 barrels a day and produces diesel, fuel oil, and gasoline. The local economy basically depends on the petroleum industry, but corn, fruits, sugar, and rice are also cultivated in the area.

The artist Francisco Toledo was born in Minatitlan although birthplace is commonly wrongly attributed to Juchitan.